Site was Last Modified
10 April, 1999...
Unless I Forgot to Change
the Date Reference! :-)

Drop Us a Line...
Sign My Guestbook
View My Guestbook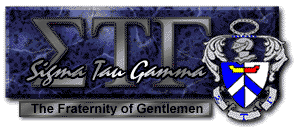 The BETA IOTA Bugle
The Alumni Association of Sigma Tau Gamma's
BETA IOTA CHAPTER has established this website to
foster continuing interest and contribute to the rebirth of the chapter at
California University of Pennsylvania...where Sigma Tau Gamma
has had a long and glorious history.
Brothers and Friends are Encouraged to Work With the Alumni Board
to help regain a place of prominence among
the Esteemed Brotherhood of the Sigma Tau Gamma Fraternity...

OUR Link Pages

We've been pleaesed welcome
Visitors Since 1 April, 1999
Before You Leave

We Appreciate Assistance from...